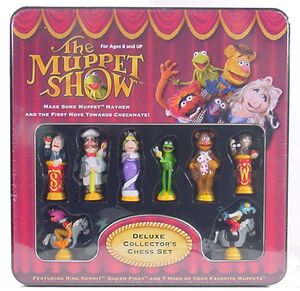 The Muppet 3-D Chess Set was produced by A La Carte in 1999, and later rereleased by Juniortoys.
The pieces are detailed PVC Muppets on red and yellow stands. The following characters are featured:
There were two different sets. One set had a 'regular' board with a black edge and the Kermit Collection logo; the other set had a 'deluxe' board with gold decorations, featuring Kermit and Fozzie, around the edges.
The Kermit and Piggy pieces were also sold as keychains, however the Piggy wore a purple dress instead of a red one.
Ad blocker interference detected!
Wikia is a free-to-use site that makes money from advertising. We have a modified experience for viewers using ad blockers

Wikia is not accessible if you've made further modifications. Remove the custom ad blocker rule(s) and the page will load as expected.