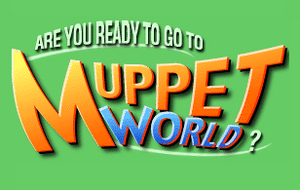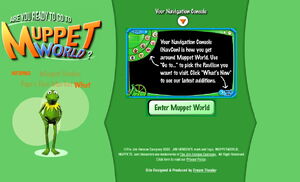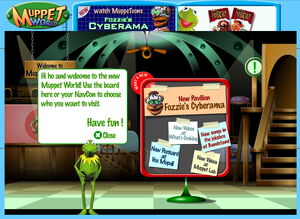 MuppetWorld.com was an official Muppets site run as an offshoot of Muppets.com under The Jim Henson Company's ownership. The website was online from 1999 until 2004, launched in conjunction with Columbia Tristar's summer 1999 movie, "Muppets from Space". In 2005, after the Muppets were sold to the Walt Disney Company, the site redirected to Disney's first Muppets site, muppets.go.com.
The website, which required the Macromedia Flash plug-in to view, was designed by Dream Theater (Executive Producer, Darren Chuckry), under the creative direction and production supervision of Nicholas de Wolff. All activities, games, CGI characters, and other elements were developed, written, and designed in-house by Dream Theater. Script content was written by David Cohen and de Wolff, Art Direction by Steven Lin, animation by Mo Davoudian, and technology by Mark Arana.
Columbia Tri-Star Home Video's The Very Best of the Muppet Show: Volume 2 included access to the MuppetWorld website.
Muppetworld.com had a variety of Flash-based activities, including:
A series of MuppetToons, 3D-polygon representations of Muppets involved in computer & Internet-based sketches.
Pepe's Shopping Carnival was a merchandise area.
An interactive story based upon the movie Muppets from Space.
Activities involving Animal which included controlling the muppet to create sounds & songs.
An activity titled Whot's Cooking? that featured The Swedish Chef.
An area called the Galactic Outpost, where users could play space-themed games.
An area where the user assisted Bunsen Honeydew & Beaker in mixing colors.
A Fozzie-related repository of jokes.
The site was awarded the "Flashkit Featured Site of the Month" for May 2000.
Links