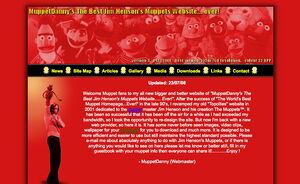 | | |
| --- | --- |
| URL  | muppetdanny.topcities.com, muppetdanny.fortunecity.com |
| Active  | 2001-2012 |
| Type  | unofficial fansite |
| Creator  | MuppetDanny |
MuppetDanny's The Best Jim Henson's Muppets Website..... Ever! is a Muppet fan website created in October 2001. The site is a revival of "The World's Best Muppet Homepage...Ever!" which was online in the late 90's.
The site includes Muppet video clips, news reports, transcripts and articles, full videos of television shows and specials, a picture gallery, downloads and external links.
Ad blocker interference detected!
Wikia is a free-to-use site that makes money from advertising. We have a modified experience for viewers using ad blockers

Wikia is not accessible if you've made further modifications. Remove the custom ad blocker rule(s) and the page will load as expected.