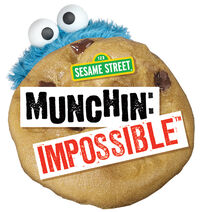 Munchin: Impossible is a proposed Sesame Workshop production, where a gingerbread cookie called "The Man" from the Cookie Intelligence Agency sends Agent Cookie (Cookie Monster) on various food-filled missions, to distract him from eating cookies.
The series consists of 26 five minute episodes and (as of November 2009) is currently up for sale to international markets. The series is filmed partially on location, and includes segments from around the world, based on clips from the Sesame Workshop International Film Library.
On March 24, 2011, in an entry on the Sesame Street Twitter account, Cookie Monster references his work for the Cookie Intelligence Agency, sort of: "Shh – me been working for secret govt. organization: CIA. It stand for Cookie Intelligence Agency. But don't tell anyone!"[1]
Sources