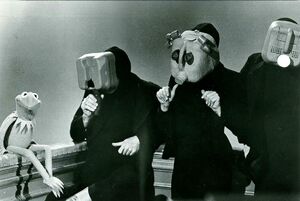 Mummenschanz is an experimental troupe formed in Switzerland. The group is made up of actors/puppeteers/expressive dancers/artists/whatever who mainly perform in black leotards with creative masks and typically remain silent during their performances.
The original members were Andres Bossard (1944-1992), Bernie Schürch, and Floriana Frassetto. Other members have included Brian Muehl.
Mummenschanz guest starred on The Muppet Show episode 124 and also appeared in Sesame Street inserts. In one segment, two performers wearing a cardboard box demonstrate the concepts of same and different by changing each other's appearance. The troupe appeared in a 1978 episode performing short skit inserts.
Mummenschanz continues to perform in its latest retrospective, 3x11, celebrating 33 years as a group.
References
In the fifth season Muppet Babies episode "He's a Wonderful Frog," Baby Gonzo shows Baby Kermit that if he doesn't come back, bad things will happen as he shows different kinds of film footage including footage of a Mummenschanz performer with a mask of toilet paper rolls.
External links