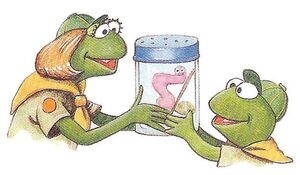 Ms. Ribit is the nature counselor at Frog Scout camp in the short story Robin and the Most Beautiful Bug. For the scouts big summer project, she gives them each a jar with holes punched in the lid, and she instructs them to capture a bug, and observe it for awhile, and then set it free.
After instructing the campers on which bugs are safe to catch, and which are not, she turns them loose into the wild. Robin headed off into the woods, but was unable to find anything but a boring little green caterpillar. When he showed Ms. Ribit his find, she became excited, for it was about to spin a cocoon and turn into a beautiful Butterfly.
Ad blocker interference detected!
Wikia is a free-to-use site that makes money from advertising. We have a modified experience for viewers using ad blockers

Wikia is not accessible if you've made further modifications. Remove the custom ad blocker rule(s) and the page will load as expected.