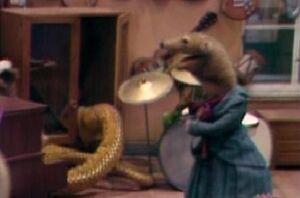 Mrs. Mink, from Emmet Otter's Jug-band Christmas, is a conservative type who runs The Music Store located in Waterville. After being irritated by those Riverbottom boys, she manages to kick them out of her store.
She was originally supposed to sing "Born in a Trunk," a gaudy, Cabaret-like song, at the talent show. The number was planned to contrast with her earlier, more reserved persona. Marilyn Sokol recorded the audio for the song (written by Paul Williams) but it was later cut from the special. Although the musical number didn't make it to film, she is still seen in her sequins and feathers running around backstage prior to the show.
Though she was unnamed in the television special, in the stage version, the character is named Mrs. Mink. Her song was restored for the musical, where Gretchen Fox cuts the number short. An additional number, "At the Music Store," was also added to the production. Madeleine Doherty originated the role for the original production.
This puppet is currently being used in Jim Henson's Stuffed and Unstrung.