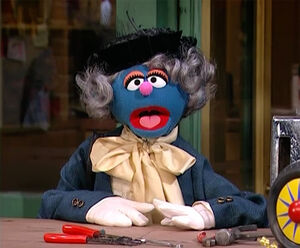 Mrs. Crustworthy is an elderly woman who has made recurring appearances on Sesame Street.
She made her debut in a 2006 episode as a Hooper's Store customer. She has since appeared at least once a season, earning her name in a 2007 episode.
In the latter, she takes her toaster to the Fix-It Shop for repair, for the Toast Lovers' Society's luncheon. She desperately needs it fixed, "or I'm toast!" When it takes a while to be repaired, she partakes in "The Toast Lovers' Participatory Popping Game", which is pretending you're a piece of toast in a toaster. The waiting pays off and the toaster is ready.
The character is mentioned on Fran Brill's Puppeteering Resume. In fact, the character is based on an old woman who Fran knew as a child.[1]
Appearances
Sources
↑ "Puppeteering Resume", The Official Fran Brill Website, undated, accessed December 18, 2010.