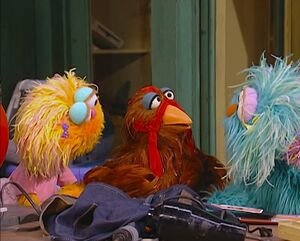 Mrs. Chicken is a Fix-It Shop customer on episode 4153 of Sesame Street. When Mrs. Chicken arrives to pick up her toaster, Maria is missing, so Rosita and Zoe mistakenly think that they have magically turned Maria into a chicken using Abby Cadabby's wand. In an attempt to turn Mrs. Chicken back into Maria, they accidentally give her a wig and a sombrero before turning her into a pumpkin. Mrs. Chicken is finally restored to her true self with the help of some advice from Abby's mother.
See also
Ad blocker interference detected!
Wikia is a free-to-use site that makes money from advertising. We have a modified experience for viewers using ad blockers

Wikia is not accessible if you've made further modifications. Remove the custom ad blocker rule(s) and the page will load as expected.