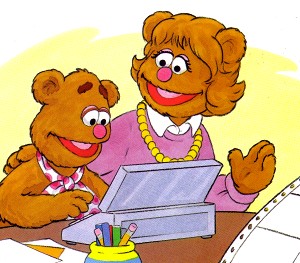 Mrs. Bear is a younger version of Emily Bear, as seen in the Muppet Kids books. Mrs. Bear is a working mother who lives with her husband and her two sons, Fozzie and Freddie.
In Fozzie Bear, Star Helper, Fozzie notices that his mother seems a little grumpy since returning to work after having her second child. Mrs. Bear serves Fozzie a plate of carrots and celery in Fozzie's Last Lap.
See also
Ad blocker interference detected!
Wikia is a free-to-use site that makes money from advertising. We have a modified experience for viewers using ad blockers

Wikia is not accessible if you've made further modifications. Remove the custom ad blocker rule(s) and the page will load as expected.