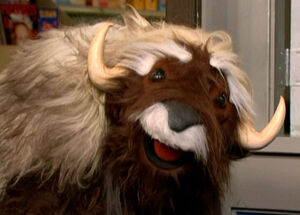 Mr. Yak is a yak on Sesame Street who appears in Episode 4192. While Elmo, Telly and Abby are looking for things that start with Y, the yak arrives for his appointment at Gina's veterinary office. Dismissing him as a hairy cow, the three move on to look elsewhere.
They miss him again at the laundromat, and almost again at Hooper's Store until Alan clues them in. Mr. Yak orders a yogurt, but reminds himself to yodel before enjoying his refreshment.
The puppet was originally built as Monicia the Musk Ox for The Animal Show. In an appearance in the 42nd season, he received more Muppet-y eyes.