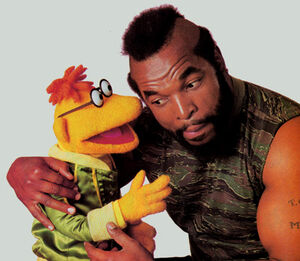 Mr. T (born Laurence Tureaud in 1952) is an actor who became famous for his appearances in Rocky III and The A-Team.
He was interviewed in the Fall 1984 issue of Muppet Magazine, and appeared on the cover.
He also appeared on The Nick and Jessica Variety Hour, a special which featured cameos by Kermit, Miss Piggy, and Pepe the King Prawn.
References
In a Twitter posting for June 11, 2010, Bert wrote, "Ever notice how similar my hair is to Mr. T's? The only difference is mine is a little more 'mo,' a little less 'hawk.'"
In a 2010 episode of Sesame Street, Telly, Elmo and Abby join "The A Team." Telly spoofs Mr. T's roll, wearing several chains and talking in a gruff voice, even quoting "I ain't gettin' on no plane!"
External links
Ad blocker interference detected!
Wikia is a free-to-use site that makes money from advertising. We have a modified experience for viewers using ad blockers

Wikia is not accessible if you've made further modifications. Remove the custom ad blocker rule(s) and the page will load as expected.