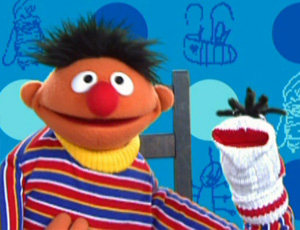 Mr. Sock is Ernie's sock puppet. He uses him to bug Bert while he's reading a book in a Play With Me Sesame segment. After Bert becomes annoyed, Mr. Sock only wanted to ask him if Bert wanted to play his favorite game, Perfect Pair. Proud of his antics, Mr. Sock laughs an Ernie laugh, which surprises his puppeteer.
Ad blocker interference detected!
Wikia is a free-to-use site that makes money from advertising. We have a modified experience for viewers using ad blockers

Wikia is not accessible if you've made further modifications. Remove the custom ad blocker rule(s) and the page will load as expected.