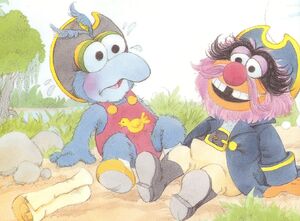 Mr. Kreegle is a pirate, and Baby Gonzo's first mate in the Muppet Babies storybook Baby Gonzo's Treasure Hunt.
Mr. Kreegle takes command of the search for buried treasure when a not so enthusiastic Gonzo gives up. Along with the pirate crew of Goldtooth Dan, Pee Wee, Peg Leg, Cutlass Kurt and Cross-Eye Jack, Mr. Kreegle searches for the buried treasure shown on the map from the back of a cereal box. When they finally uncover the treasure, Mr. Kreegle and the other pirates are overjoyed to find that it is breakfast cereal, as they are all very hungry.
During the search, Mr. Kreegle mentions that he served with Blackbeard on the Pacific Ocean.
Ad blocker interference detected!
Wikia is a free-to-use site that makes money from advertising. We have a modified experience for viewers using ad blockers

Wikia is not accessible if you've made further modifications. Remove the custom ad blocker rule(s) and the page will load as expected.