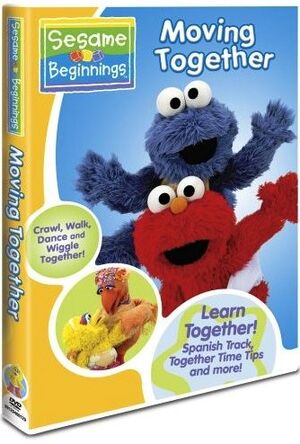 Moving Together is the fourth DVD release in the Sesame Beginnings series. The DVD was released in 2007.
Baby Elmo and his dad sings "There You Go, Little One." Baby Big Bird falls over his big feet as he learns to walk to the singing of "Baby Steps." Baby Prairie Dawn pushes around her wagon to collect all her toys. And Baby Cookie Monster runs around like he has ants in his pants. The video also features a special guest appearance by Sarah Jessica Parker.
International releases
Credits
Ad blocker interference detected!
Wikia is a free-to-use site that makes money from advertising. We have a modified experience for viewers using ad blockers

Wikia is not accessible if you've made further modifications. Remove the custom ad blocker rule(s) and the page will load as expected.