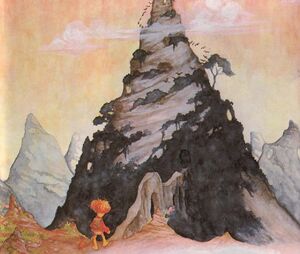 The Mountain of Many Mysteries is featured in the Fraggle Rock storybook The Cave of the Lost Fraggle. Red has been dared by Gobo to explore the Cave of the Lost Fraggle after losing in a game of "Last One In" at the Fraggle Pond. The Mountain was one of the many obstacles Red faced on her journey, and it is located after the River of the Raging Rapids and before the Marsh of the Mushy Mushrooms.
Ad blocker interference detected!
Wikia is a free-to-use site that makes money from advertising. We have a modified experience for viewers using ad blockers

Wikia is not accessible if you've made further modifications. Remove the custom ad blocker rule(s) and the page will load as expected.