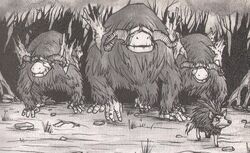 Mounders are large creatures found on the planet Thra. They are featured in the Legends of the Dark Crystal manga series. Lahr serves as a shepherd to a herd of mounders along with his compainion Whouf.
Editor Tim Beedle described the creatures as "seaweed-fleeced 'sheep' the size of elephants."[1]
Sources
↑ An Interview with Tim Beedle. The Muppet Newsflash. October 2007.
Ad blocker interference detected!
Wikia is a free-to-use site that makes money from advertising. We have a modified experience for viewers using ad blockers

Wikia is not accessible if you've made further modifications. Remove the custom ad blocker rule(s) and the page will load as expected.