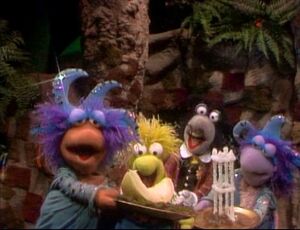 Mossmelon is the rarest and sweetest fruit in all of Fraggle Rock. It can only be havested once every hundred years.
In "The Secret of Convincing John", Wembley Fraggle was offered a piece of mossmelon, but he could not decide between the portion of mossmelon and a piece of the Tooth Tower.
Ad blocker interference detected!
Wikia is a free-to-use site that makes money from advertising. We have a modified experience for viewers using ad blockers

Wikia is not accessible if you've made further modifications. Remove the custom ad blocker rule(s) and the page will load as expected.