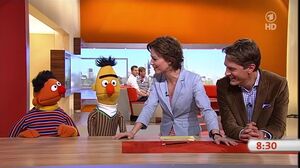 Morgenmagazin is a morning show on the German channel ARD, with a similar format to Good Morning America.
On October 14, 2011, Carsten Morar-Haffke, Martin Paas and Charlie Kaiser were interviewed by Anna Planken and Sven Lorig about how the characters work and talked a little about the upcoming Sesamstrasse segment Ernie & Bert Songs. Among the questions was "How do Bert eyebrows work?" Carsten Morar-Haffke said that inside the head there's a ring in the mouth that are attached to a small mechanism, but he has no idea how that works. He operates the ring with his middle finger to make the eyebrow move.
Later in the show Ernie and Bert are also interviewed by Anna Planken and Sven Lorig. Among the things they talk about are the guest stars that they get to sing with in Ernie & Bert Songs.
Ad blocker interference detected!
Wikia is a free-to-use site that makes money from advertising. We have a modified experience for viewers using ad blockers

Wikia is not accessible if you've made further modifications. Remove the custom ad blocker rule(s) and the page will load as expected.