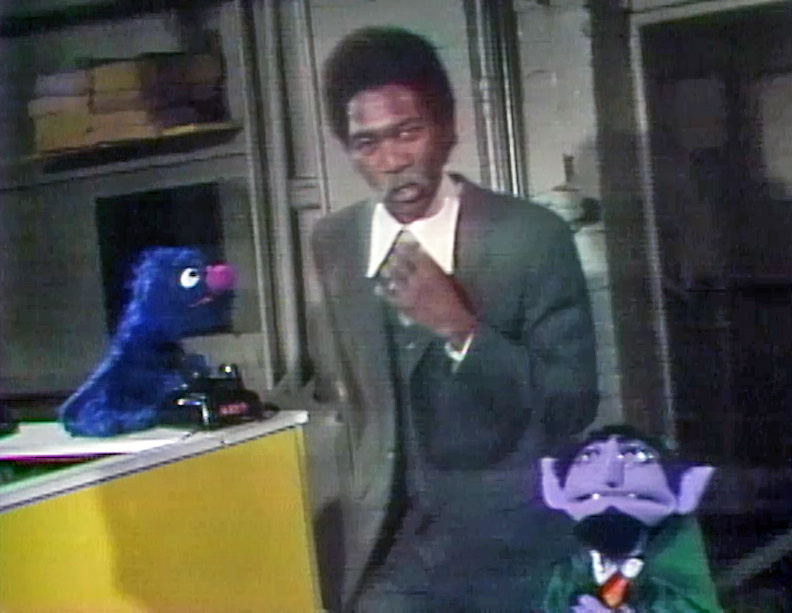 Morgan Freeman (b. 1937) is an Academy Award-winning actor best known for his roles in Driving Miss Daisy, The Shawshank Redemption and Million Dollar Baby.
One of his earliest roles was as an ensemble member on the PBS series The Electric Company, playing Easy Reader, DJ Mel Mounds, Count Dracula, and other roles.
In 1974, Freeman appeared with the casts of The Electric Company and Sesame Street on the television special Out to Lunch.
Kermit spoofed Freeman's role in Driving Miss Daisy in the 1998 calendar Muppet Movie Parodies: Plump Fiction. The parody was entitled "Driving Me Crazy."
In an interview with GQ, Jason Segel jokes that if he couldn't get Kermit the Frog to play the role of Kermit in The Muppets, their backup plan was Morgan Freeman. [1]
Freeman's additional credits include Batman Begins, Robin Hood: Prince of Thieves, the re-launch of The Twilight Zone series, and narrating March of the Penguins and the 2008 television adaptation of Raisin in the Sun.
External links
Ad blocker interference detected!
Wikia is a free-to-use site that makes money from advertising. We have a modified experience for viewers using ad blockers

Wikia is not accessible if you've made further modifications. Remove the custom ad blocker rule(s) and the page will load as expected.