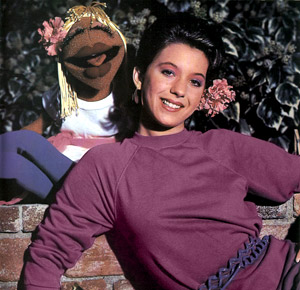 Moon Unit Zappa (b. 1967) is a writer and stand-up comic. She became famous in 1982 as a vocalist on the hit song "Valley Girl," by her father Frank Zappa. She now goes by the name "Moon Zappa"; her first novel was published in 2001.
In 1983, she was interviewed in Muppet Magazine issue 2.
A favorite guest VJ on MTV in the 80s, she has also made guest appearances on Curb Your Enthusiasm, Roseanne, How I Met Your Mother, and CHiPs.
She is sister to Dweezil Zappa and Ahmet Zappa.
External links
Ad blocker interference detected!
Wikia is a free-to-use site that makes money from advertising. We have a modified experience for viewers using ad blockers

Wikia is not accessible if you've made further modifications. Remove the custom ad blocker rule(s) and the page will load as expected.