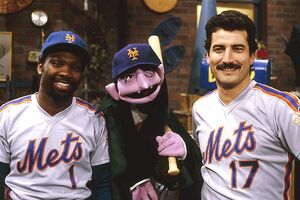 William Hayward "Mookie" Wilson (b. 1956) is a former Major League Baseball center fielder who played with the New York Mets (1980–89) and Toronto Blue Jays (1989–91). Fans would frequently chant "Mooooo-kie" in appreciation of him, and he remains regarded with special affection by Mets fans. He is also remembered for making a grounder which lead to an error by Bill Buckner.
Wilson appeared in the Sesame Street, Special where he sang in a Celebrity version of "Put Down the Duckie" with Keith Hernandez. He also appeared in Season 19 with Keith where the duo play Baseball with The Count, and helped teach Snuffy how to hit a ball in episode 2477.
Ad blocker interference detected!
Wikia is a free-to-use site that makes money from advertising. We have a modified experience for viewers using ad blockers

Wikia is not accessible if you've made further modifications. Remove the custom ad blocker rule(s) and the page will load as expected.