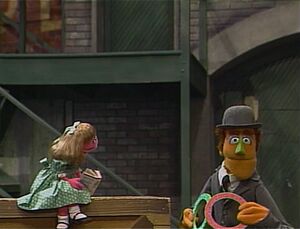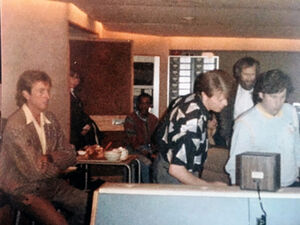 Monty Python is the name of a British comedy group known for a surreal sense of humour easily as gleefully anarchic and silly as The Muppets themselves. They are known for such works as Monty Python's Flying Circus, Monty Python and the Holy Grail and Monty Python's The Meaning of Life.
Members include Graham Chapman, John Cleese, Terry Gilliam, Eric Idle, Terry Jones and Michael Palin. Occasional members have included Connie Booth, Neil Innes, Chris Langham (in Life of Brian) and Eddie Izzard (in two television specials).
References
Their comedy was the inspiration of a Muppet character on Sesame Street named Monty, who was well-known on the street for his odd sense of logic. In reference to Monty Python's Flying Circus, Monty presented his "flying circles" in a 1993 episode. In an earlier episode, he introduces "Something exactly the same, yet completely different." Later, he visits a Birdketeer meeting wearing a fake bird on his hat in a scene that parodies the "Dead Parrot" sketch.
One of the most popular Monty Python sketches is a sketch where John Cleese tries to return a dead parrot to a pet shop, calling it an "ex-parrot". In the Pigs in Space sketch which John Cleese appears in, he gets frustrated at a wise-cracking parrot, holds his gun out in front of the parrot and asks the parrot if he would like to be an "ex-parrot".
In Fraggle Rock episode 115, one of the actors in Mokey's play bangs two coconut halves together to simulate the sound of a trotting horse. The same effect was made famous in Monty Python and the Holy Grail.
In the first issue of Muppet King Arthur, when it is mentioned that the knights should get some horses, Sir Percival exclaims, "Or some coconuts!" This is a reference to a running gag from Monty Python and the Holy Grail, where instead of horses, the knights use coconuts to make the sound of horses.
The second issue of the Muppet King Arthur comic makes reference to "Castle Anthrax," a location from Monty Python and the Holy Grail.
In the third issue of the Muppet King Arthur comic series, the jealous Morgana states, "So Artie thinks he can go off and marry that Guinevere dame just because she's a noble chicken with huge tracts of land?" The latter part of the question references a scene from Monty Python and the Holy Grail.
Connections
Ad blocker interference detected!
Wikia is a free-to-use site that makes money from advertising. We have a modified experience for viewers using ad blockers

Wikia is not accessible if you've made further modifications. Remove the custom ad blocker rule(s) and the page will load as expected.