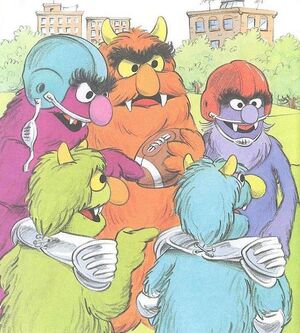 Monty Monster is a large orange monster and the biggest member of the "Mighty Monsters". His appearance bears a considerable resemblance to Sesame Street's Frazzle. He is seen in the book Grover's Bad, Awful Day. Monty tells Grover that he is too little to play tackle football with the other monsters; however, later that day, while enjoying a drink at Hooper's Store, he invites Grover to play tickle football with the gang the next day.
Ad blocker interference detected!
Wikia is a free-to-use site that makes money from advertising. We have a modified experience for viewers using ad blockers

Wikia is not accessible if you've made further modifications. Remove the custom ad blocker rule(s) and the page will load as expected.