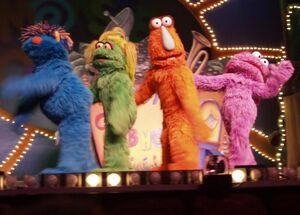 The four Monster Clubhouse characters have appeared in Sesame Street Live tours. Mel, Phoebe, Narf and Googel are performed to vocal tracks by their original performers -- Kevin Clash, John Tartaglia, Joey Mazzarino and Stephanie D'Abruzzo.
Ad blocker interference detected!
Wikia is a free-to-use site that makes money from advertising. We have a modified experience for viewers using ad blockers

Wikia is not accessible if you've made further modifications. Remove the custom ad blocker rule(s) and the page will load as expected.