| | |
| --- | --- |
| Written by | Stan Freberg and Ruby Raskin |
| Publisher | Kavelin Music |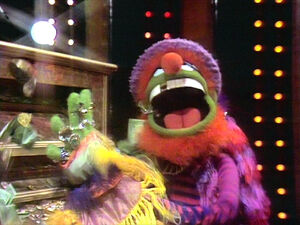 "Money" is a comedy song by Stan Freberg and Ruby Raskin that was performed by Jim Henson and the Muppets on Sam and Friends, in variety show appearances and on The Muppet Show.
On Sam and Friends, Henson's earliest television program, the Muppet characters lip-synched to a Mel Blanc recording of "Money". [1]
Henson began performing the song in variety-show appearances in the mid-60s -- on The Mike Douglas Show and The Tonight Show in 1966, as well as an appearance on Good Morning America. In these sketches, the Muppet character (either Tommy or Rowlf the Dog) would grab various props, including a wallet, a piggy bank, and a bank bag. [1]
Dr. Teeth performed the song in episode 106 of The Muppet Show, jamming on a piano while extolling the virtues of money. At the end, Dr. Teeth yanks a slot machine-style lever on the side of his piano, which pays off.
Sources
↑ 1.0 1.1 Falk, Karen. "Jim Henson's Red Book", 1/13/1966 - Tonight Show - "Money" and "Sclrap Flyapp".