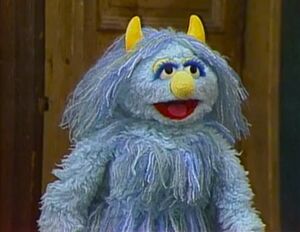 Mona Monster is Telly's older sister who has a very vivid imagination. She appeared on Sesame Street briefly during the early 1980s. She also appeared with other Sesame Muppets in the wedding finale of The Muppets Take Manhattan.
Mona Monster also appeared in the second edition of Sesame Street Live, Big Bird's Super Spectacular Totally Amateur Show. She is not named in the program; instead she is referred to as "Turquoise Monster."
The puppet used for Mona Monster was reworked and used several times as different characters, including Frieda and Juliet. The puppet was eventually rechristened and popularized as Ingrid and has been connected to that character since 1993.