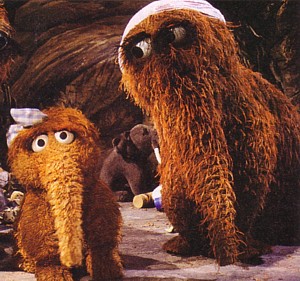 Mommy Snuffleupagus is a loving Snuffleupagus matriarch on Sesame Street.
She lives at 456 Snuffle Circle, with her husband and her two children, Aloysius and Alice. In the 1990 book See You Later, Mashed Potater!, she is referred to as "Mommy Snuffle." She also appeared in the video A New Baby in My House.
Mommy Snuffle plays a role similar to that of Big Bird's Granny Bird. She appears only on a sporadic basis and exists primarily in books or as a kindly off-screen presence, mentioned but not seen.
In the unaired divorce episode, Noel MacNeal remained the puppeteer, but Lynn Hippen was hired as the voice because the producers felt they needed a female voice for the character.[1]
Casting history
Appearances
Book appearances
Sources
Ad blocker interference detected!
Wikia is a free-to-use site that makes money from advertising. We have a modified experience for viewers using ad blockers

Wikia is not accessible if you've made further modifications. Remove the custom ad blocker rule(s) and the page will load as expected.