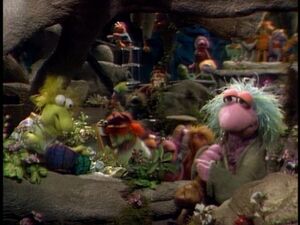 "Mokey's Jam Session" is an upbeat instrumental song played by Mokey on flute, Boober on washboard, and Wembley on bongos in the Fraggle Rock episode "The Lost Treasure of the Fraggles."
The tune is also used over a montage of the various unusual creatures that have come from the Muppet Workshop in the documentary Down at Fraggle Rock.
Ad blocker interference detected!
Wikia is a free-to-use site that makes money from advertising. We have a modified experience for viewers using ad blockers

Wikia is not accessible if you've made further modifications. Remove the custom ad blocker rule(s) and the page will load as expected.