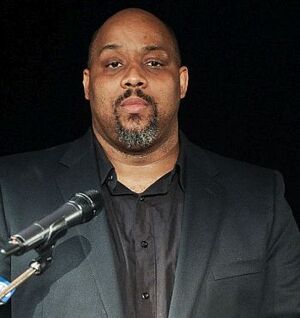 Moises Belizario is an actor, stage director, and voice actor who provided the Spanish dialogue for Elmo for the Spanish version of the Sesame Street resource video, A is for Asthma.
Unlike previous resource videos, A is for Asthma was reshot in Spanish rather than simply being dubbed. The rest of the main cast of the video (Gabriel Velez, Carmen Osbahr and Emilio Delgado) were Spanish-speakers, meaning Kevin Clash as Elmo would have to be dubbed. Belizario was hired to be the Spanish voice for Elmo and subsequently recorded his lines as a reference for Clash to learn. Clash (who was in China at the time) instead memorized the cadence and rhythm of Belizario's vocals. When it came time to film the video, Belizario was on-set, sitting underneath the camera and reciting his lines live, as Clash lip-synced Elmo to his vocals.[1]
Belizario appeared on an episode of The Sopranos (as an FBI man) and in the 2005 indie film Brooklyn Lobster (with Jane Curtin). He has directed several stage projects for the CityKids foundation.
Sources
Ad blocker interference detected!
Wikia is a free-to-use site that makes money from advertising. We have a modified experience for viewers using ad blockers

Wikia is not accessible if you've made further modifications. Remove the custom ad blocker rule(s) and the page will load as expected.