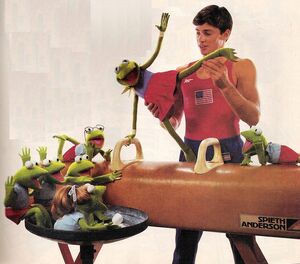 Mitch Gaylord (b. 1961) was the number one ranked gymnast in 1983 and 1984, and represented the U.S.A. in the 1984 Olympics. He led the U.S. team to a gold victory and was the first American Gymnast to receive a perfect 10.
Gaylord was twice featured in Muppet Magazine, interviewed by Kermit in issue 10, in a gymnastics piece, and by Janice in issue 15, promoting his starring role in the 1986 film American Anthem.
Gaylord was a stunt double for Chris O'Donnel in Batman Forever, has appeared as himself on Hollywood Squares and Night of 100 Stars II, was a contestant on American Gladiators, and guest starred in the 1991 television revival of Dragnet.
External links
Ad blocker interference detected!
Wikia is a free-to-use site that makes money from advertising. We have a modified experience for viewers using ad blockers

Wikia is not accessible if you've made further modifications. Remove the custom ad blocker rule(s) and the page will load as expected.