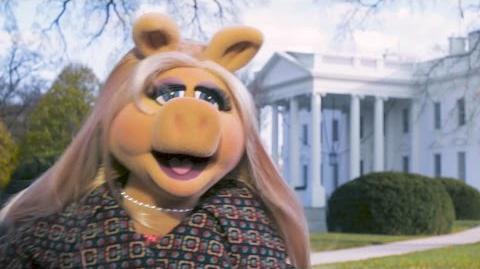 During the month of December in 2015, Miss Piggy visited The White House in a series of social media posts and appearances dubbed "Miss Piggy Goes to Washington" by The Muppets' YouTube channel. Miss Piggy had previously read A Visit from St. Nicholas with Michelle Obama at The National Christmas Tree Lighting on December 4.
On December 9, The Muppets' YouTube channel posted a video in which Miss Piggy gives a tour of The White House for viewers of Up Late with Miss Piggy. The tour included an interview with The First Lady's Chief of Staff, Tina Tchen. Piggy reports from the Vermeil Room and the Blue Room which features the White House Christmas tree (she finds a gift for Kermit, but gets angry to find that there isn't one for her). After attempting to go upstairs to visit POTUS, Piggy is escorted off the premises by the Secret Service.
On December 22, Miss Piggy took over Michelle Obama's Instagram account and posted five photos.
| | |
| --- | --- |
| | First Lady Michelle Obama, moi's close personal friend, is letting me take over her Instagram today. (How did she know what I wanted for Christmas?) Here I am at the @WhiteHouse, which really does look like a delicious three-layer cake covered in icing when you get up close! —Miss Piggy. Earlier this month our favorite @TheMuppets joined the President and First Lady for the annual National Christmas Tree Lighting. Today, Miss Piggy is taking over on our latest edition of the #12DaysOfTakeovers. |
| | The scenery outside my Hollywood mansion is fabulous, but the President has quite a nice view, too. I adore the Washington Monument so much, I'm having my landscapers put one in my backyard as soon as I get home! —Miss Piggy. #12DaysOfTakeovers |
| | Here I am with my new BFF, Tina Tchen, Chief of Staff for First Lady Michelle Obama. Tina gave moi an exclusive White house tour which you can watch with the link found in the bio. Making spirits bright! That's moi! Happy Holidays! —Miss Piggy. #12DaysOfTakeovers |
| | The most exquisite and bedazzling sight this side of moi's jewelry drawer: a @WhiteHouse Christmas tree adorned in pink. It sparkles! It glows! And, most important in any tree, it has oodles of room for presents. I wonder where Santa put mine? —Miss Piggy. #12DaysOfTakeovers #WHHolidays |
| | At the @WhiteHouse, moi and my co-star, the First Lady of the United States, read T'was the Night Before Christmas. (An award-winning duet? I should say so!) "Merry Christmas to all…and to all a good night!" Making spirits bright! That's moi! Happy Holidays! —Miss Piggy. And that's a wrap on today's edition #12DaysOfTakeovers! |
Ad blocker interference detected!
Wikia is a free-to-use site that makes money from advertising. We have a modified experience for viewers using ad blockers

Wikia is not accessible if you've made further modifications. Remove the custom ad blocker rule(s) and the page will load as expected.