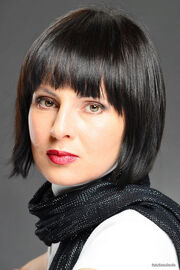 Mirta Zečević
is the Croatian voice of Matovilka (
Rapunzel
) on
Ulica Sezam
.
Her most prominent role is Saska on Najbolje godine, a popular family drama, appearing in 118 of the 318 episodes. At the 1992 Pula Film Festival, she won the Golden Arena for Best Actress in a Leading Role, for her role in Luka. She voiced Koraljka (Pearl Krabs) on the Croatian dub of Spužva Bob Skockani (SpongeBob SquarePants).
Ad blocker interference detected!
Wikia is a free-to-use site that makes money from advertising. We have a modified experience for viewers using ad blockers

Wikia is not accessible if you've made further modifications. Remove the custom ad blocker rule(s) and the page will load as expected.