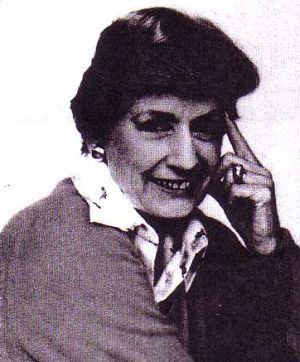 Miriam Nelson is a choreographer and dancer who directed and choreographed Sesame Street Live shows, such as Sesame Jamboree and Around the World. Nelson had previously worked with the Muppets on the Julie Andrews special One to One.
Nelson began her career as a dancer, before transitioning to choreography in the late 1950s. She worked on such stage events as Disney on Parade, Bob Hope and Bing Crosby performing at Madison Square Garden, and a 1979 revival of Oklahoma!. Television work includes dance steps for episodes of Bonanza and Columbo, two Academy Awards broadcasts, and Stan Freberg's special The Federal Budget Review, or the Six Billion Dollar Misunderstanding. Film choreography includes Picnic, Cat Ballou, The Apartment, and Bob & Carol & Ted & Alice.
Of her Muppet choreography, Nelson spoke as follows, in the presskit for Sesame Street Live:
"

The personality of the Muppets has always fascinated me. Their roles are so adaptable to creative choreography that bringing them to life musically is a great professional accomplishment.

"
External Links
Ad blocker interference detected!
Wikia is a free-to-use site that makes money from advertising. We have a modified experience for viewers using ad blockers

Wikia is not accessible if you've made further modifications. Remove the custom ad blocker rule(s) and the page will load as expected.