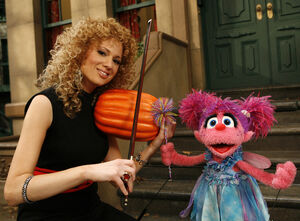 Miri Ben-Ari is a classically trained, Israeli-born violinist. As a crossover artist, she has recorded with Wyclef Jean, Alicia Keys, Ashanti, and Brandy. She also recorded an album of hip-hop music with many well-known emcees on vocals in addition to her Western classical and jazz recordings.
She appeared in the "Violins" segment of Elmo's World with Abby Cadabby. Together, they sent an e-mail to Elmo about how to play the violin. (YouTube)
Ad blocker interference detected!
Wikia is a free-to-use site that makes money from advertising. We have a modified experience for viewers using ad blockers

Wikia is not accessible if you've made further modifications. Remove the custom ad blocker rule(s) and the page will load as expected.