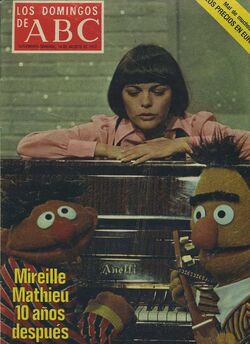 Mireille Mathieu (b. 1946) is a French singer who has achieved great success in her home country, as well as becoming an international superstar; she gained great popularity particularly in Germany and Russia. Performing publicly since 1950 at age four, Mathieu has recorded about 1200 songs in at least nine languages. She was also the first Western singer in history to give concerts in China.
In March 1977, the Sesame Street Muppets Oscar the Grouch, Ernie, Bert, and Big Bird appeared on one of her TV specials, Numéro 1. Mathieu argued and even arm wrestled with Oscar, was surprised at the size of "canary" Big Bird, and sang a rousing "Tous Les Enfants Chantent Avec Moi" ("All the Children Sing with Me") accompanied by Ernie playing the piano and Bert strumming the guitar. While Big Bird danced with her, even Oscar joined in on singing the song.
In 2013, Mathieu appeared on Germany's Das Herbstfest der Träume, following Helene Fischer. Sesamstrasse's Ernie, Bert, Wolf, Elmo and Preston Rabbit were surprise guests on the show, and had sung and danced not only for Fischer as backup, but continued to do so for Mathieu as well.
Trivia
External links