The following is a list of Muppet Mentions made in notable productions produced for the internet outside of the Henson/Sesame fold, all of which are too brief or minor to constitute having their own page in the Internet Mentions category.
Annoying Orange
In a Let's Play of Flappy Birds featuring Orange he says maybe it would help if he sings to the tune Rubber Duckie while playing the game and the background used in the video has Orange as Ernie & Grapefruit as Bert.
The Attack
The spiritual successor to Attack of the Show!, an internet variety show produced by Kevin Pereira for Twitch, with a half hour television version airing on Disney XD.
In the episode "Cold Memes, Tiny Problems," during a segment where hosts Erin Steeby and Alex Corea eat "Memesicles" (popsicles with an item relating to an internet meme frozen inside of them), one of the popsicles features "frogs legs" as a reference to Kermit's Lipton Ice meme.
CinemaSins
CollegeHumor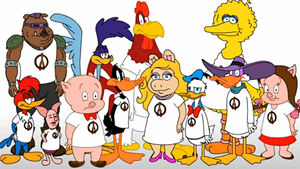 In an animated parody called "Angry Birds PSA" released on February 22, 2011, Miss Piggy and Big Bird are among various fictional birds and pigs who decry the bird-on-pig violence of the Angry Birds video game. Piglet, Donald Duck, Daffy Duck, and Darkwing Duck also appear.
"If Adult TV Shows Were Remade for Children" from July 28, 2011, imagines a kids' version of Mad Men titled Mad Men Babies, using a Muppet Babies-like font, a Nanny-like character, and a sign reading "Henson Cooper Nursery".
"Muppet Teens" from July 23, 2012, imagines a sequel to Muppet Babies with rebellious, delinquent, and profane teenage Muppets.
Fred
In Fred Goes to the Movies!, Fred goes to see an R-rated movie titled Nightmare on Sesame Street.
Funny or Die
In the video "Jean Dujardin's Villain Auditions," one of his auditions is for "Muppets 2", which has him saying "Kermit..." in a menacing way.
The song "Handjob, Blandjob, I Don't Understand Job" features references to Elmo and Statler and Waldorf. And, in the end, two people appear in Statler and Waldorf masks.
Glove and Boots
Glove and Boots is YouTube series of short comedy videos produced by Bento Box Entertainment. The videos feature a selection of hand-and-rod puppets; the two main video hosts are Mario (the red wild-looking puppet) and Fafa the groundhog.
In one video, Mario answers the question "Is Mario related to Elmo?"
One blog, prompted by viewers' comparisons to the Muppets, suggests that the Muppets have been replaced by pod people, focusing on their ABC show. (YouTube)
In "Presidential Candidates - They Could Be Worse", Elmo is among seven candidates for President at the 2016 "Even Worse Presidential Candidates Debate" (along with Kylo Ren, Vlad the Impaler, Gargamel, Mojo Jojo, Bluto, and a Borg drone). The Borg ends up assimilating Elmo, who becomes 'Elmodicon of Borg'. (YouTube)
In "Mario's Word of the Week - Reboot!", Johnny T opines that the reboot of the Muppets "pisses me off". "Yeah, I said it. ---k you, Frog. It's my time." (YouTube)
Jim Henson: The Works can be seen on the bookshelf in several videos, including "Eight Apps We Would Make If We Had Time", "Everything Needs an Update!", and "Runners vs. Non-Runners".
How It Should Have Ended
The Irate Gamer
In his review of the video game Q*Bert, Chris Bores, the Irate Gamer, tries to figure out what exactly a Q*Bert is, by breaking down the name itself, only to be left with more questions than answers; the "Bert" part of "Q*Bert" is revealed to be Bert from Sesame Street (the "Q" part is revealed to Q from Star Trek).
JibJab
In their 2011 Year in Review video "2011, Buh-Bye!", popsicle stick puppets of Bert and Ernie appear singing "We told the whole world, 'We're not gay!'" Caricatures of Kermit the Frog and Jason Segel are also seen briefly.

The original gag intended for Bert and Ernie (pictured below) was that they would pop up with female pigeons and a female Rubber Duckie.[1]

The 2012 Year in Review video, "The End is Here!," features Jerry Nelson in Heaven, holding an angelic version of The Count. A small doll of Big Bird also appears in Mitt Romney's box as he's booted from the White House premises.
Phelous
In Phelous' review of Jack Frost 2: Revenge of the Mutant Killer Snowman, clips from A Muppet Family Christmas where Statler and Waldorf heckle Fozzie and the Snowman are mixed with with clips of the puppet-like Jack Frost from the movie.
The video "Phelan & Allison Try to Survive Sesame Street" features Phelan (Phelous) and Allison (Obscurus Lupa) driving to a seedy Sesame Street located in Canada.
In Phelous' review of Teenage Mutant Ninja Turtles: Gettin' Down in Your Town, he remarks, "For those of you who think I'm too boring and have an annoying Muppet voice, which is a contradiction in terms in my book..."
RowdyC.com
Say Goodnight Kevin
In Kevin's review of Psalty: Kids Praise 5, following a random song sequence, a clip form Muppet Treasure Island is shown showing the Muppets stepping off camera following the "Cabin Fever" number.
In Kevin's review of McGee and Me: The Not-So Great Escape, McGee asks Nicholas why he doesn't just stick his head in a garbage can, to which Nicholas replies, "Because then I'd have to live with you." After this, a clip of Oscar the Grouch is shown.
In Kevin's review of Saving Christmas, Kirk Cameron mentions liking Christmas cookies in the opening, after which a clip of Cookie Monster from Christmas Eve on Sesame Street is played.
Seth MacFarlane's Cavalcade of Cartoon Comedy
In "A Scotsman who can't watch a movie without shouting..." the title character watches The Muppet Movie and yells at Kermit for not using his brain to make decisions such as taking a Studebaker to Hollywood, and picking up other puppets on the way.
Some Jerk with a Camera
In Jerk's review of The Country Bears movie, he criticizes the movie's realistic-looking versions of the Bears, and compares them with Fozzie Bear, accompanied by clips from The Muppet Show.
A clip from Muppet*Vision 3D is used in Jerk's retrospective on Epcot.
Slate
Smosh
In the February 18th, 2011 video If Kids Shows Were Real, Sesame Street is one of the shows made fun of. Kermit visits Cookie Monster in the hospital, asking the doctor (played by Anthony) how did he croak. The Doctor replies he's been eating nothing but cookies for the past 42 years. He also states that he "smoked ass-loads of meth."
In the July 1st, 2011 video IF THE INTERNET WAS REAL, Ian is wearing a Cookie Monster shirt.
In the September 20th, 2017 video "IF KIDS SHOWS WERE REAL 2", Sesame Street is made fun of again. Bob and Marge complains and tell stories about their experiences with the Muppet that moved in, such as the Sesame Street waste management refusing to empty Marge's trash due to Oscar the Grouch living in it, Cookie Monster trying to steal cookies from Bob's grocery bags, and the "pervy little red on" (referring to Elmo) continuously requesting Marge to tickle him. They both shudder in disgust at the last story.
Ted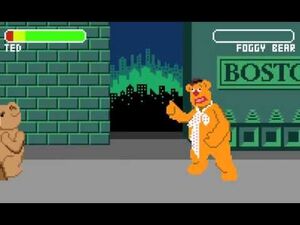 As a tie-in for the 2012 movie Ted, a browser game was launched called "Fists of Furry," where Ted fights parodies of other famous talking bears like Yogi Bear, a Care Bear, and Fozzie Bear.
Tiny Fuppets
A cartoon created by Scott Gairdner satirizing both Muppet Babies and hastily-produced foreign knockoffs of American cartoons, supposedly an original Portuguese creation whose creator is apparently unaware of the existence of Muppet Babies.
Watch Mojo
Sources