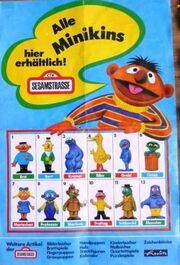 Minikins is a set of German PVC figures produced by Heimo, beginning in 1974. Heimo was the first company in the world to produce Sesame Street PVC figures. The set features the Sesamstrasse characters Samson and Tiffy, and quite a few secondary characters.
Heimo figures have no brand name, but they can be recognized by a small circle. The figures are quite small and were only sold in Europe. Various different color and material variants of these figures were released.
Heimo also created a set of three PVC pen holders in 1981.
An Italian toy company, Fabianplastica, released a version of these figures in Italy.
Variants of the Ernie, Bert, Sherlock Hemlock, Cookie Monster and Samson figures were released as pencil toppers on Sesame Street markers and pencil raizors.
In 2016 some origin model prototypes where sold on Ebay. They where purchused from a private collector who bought the models direct from the Heimo factory.
Ad blocker interference detected!
Wikia is a free-to-use site that makes money from advertising. We have a modified experience for viewers using ad blockers

Wikia is not accessible if you've made further modifications. Remove the custom ad blocker rule(s) and the page will load as expected.