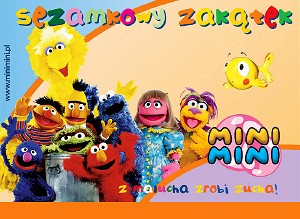 MiniMini is a Polish television channel for kids, also seen in Croatia and Hungary. Since August 2006, MiniMini has aired Sezamkowy Zakątek, a daily one-hour compilation of Sesame Street segments.
The hour-long programming block includes Polish-dubbed versions of Elmo's World, Global Grover, and Play With Me Sesame. Sesame English was included in the block at the beginning; this has been replaced by Bert and Ernie's Great Adventures. Abby's Flying Fairy School will join the lineup in December 2010.[1]
Sources
External links
Ad blocker interference detected!
Wikia is a free-to-use site that makes money from advertising. We have a modified experience for viewers using ad blockers

Wikia is not accessible if you've made further modifications. Remove the custom ad blocker rule(s) and the page will load as expected.