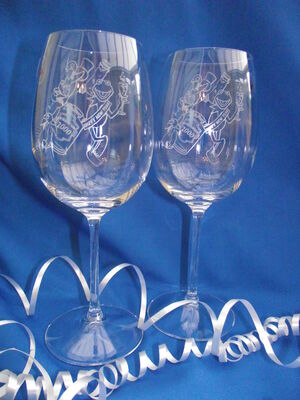 This is a very rare pair of Lead Crystal Glasses, given only to a select few Jim Henson Company employees for Christmas in 1999.
Each glass is engraved with a picture of Kermit and three penguins corking a champagne bottle. The label on the champagne bottle has Jim Henson's autograph and "Millennium 2000." Kermit is wearing a "Happy New Year" sash! The pair of glasses come in a box with a tag that reads "Happy Holidays from The Henson Family and the Jim Henson Company." The glasses were delivered as part of a hamper. Each glass stands approx 10" tall.
Ad blocker interference detected!
Wikia is a free-to-use site that makes money from advertising. We have a modified experience for viewers using ad blockers

Wikia is not accessible if you've made further modifications. Remove the custom ad blocker rule(s) and the page will load as expected.