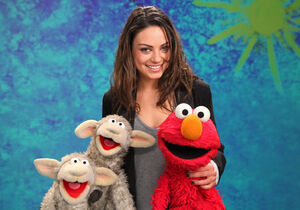 Mila Kunis (b. 1983) is an American actress best known for her roles in the television series That '70s Show and Family Guy, and the feature films Forgetting Sarah Marshall, and Black Swan, for which she was individually nominated for both a Golden Globe and a SAG award for Supporting Actress.
Kunis appeared on Sesame Street to explain the word "include" in a Season 42 Word of the Day segment.
Trivia
During the Muppet's appearance on Google+ Hangout, Miss Piggy asked Kermit why he was looking up "Mila Kunis images" on Google. Kermit awkwardly changed the subject.
External links
Ad blocker interference detected!
Wikia is a free-to-use site that makes money from advertising. We have a modified experience for viewers using ad blockers

Wikia is not accessible if you've made further modifications. Remove the custom ad blocker rule(s) and the page will load as expected.