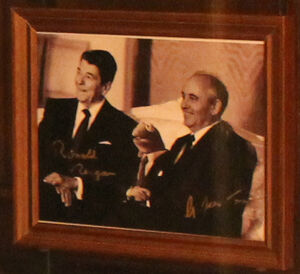 Mikhail Gorbachev (b. 1931) is a former Soviet statesman, having served as General Secretary of the Communist Party of the Soviet Union from 1985 until 1991, and as the last head of state of the Soviet Union, having served from 1988 until its dissolution in 1991.
An altered photograph placing Kermit the Frog with Ronald Reagan and Gorbachev together hangs in Kermit's office in The Muppets.
Ad blocker interference detected!
Wikia is a free-to-use site that makes money from advertising. We have a modified experience for viewers using ad blockers

Wikia is not accessible if you've made further modifications. Remove the custom ad blocker rule(s) and the page will load as expected.