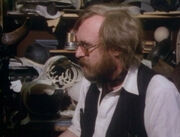 Mike McCormick, also credited as Michael McCormick, is a puppeteer and sculptor who worked on the Creature Shop productions The Dark Crystal and Labyrinth.
On Dark Crystal, McCormick was part of the Skeksis fabrication unit. His role expanded on Labyrinth, serving as goblin armour designer and working on the fabrication of both riding and walking goblins.
McCormick's other credits include serving as a puppeteer on Return of the Jedi, make-up effects on the 1992 feature White Sands, and puppetry for the 2000 short film The Phoenix. McCormick currently resides in Albuquerque, New Mexico, and along with his son, performs a Punch and Judy show in regional venues.
McCormick taught puppetry for film and TV at the Creative Media Institute of New Mexico State University (Las Cruces) until 2008.
External links
Ad blocker interference detected!
Wikia is a free-to-use site that makes money from advertising. We have a modified experience for viewers using ad blockers

Wikia is not accessible if you've made further modifications. Remove the custom ad blocker rule(s) and the page will load as expected.