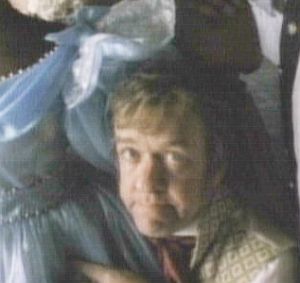 Mike Edmonds is a 4'4'' actor who served as an additional performer on The Dark Crystal, playing Aughra as a full-bodied character for certain scenes. He later appeared uncredited in The StoryTeller episode "Sapsorrow," as a tailor.
Like other British dwarf actors, Edmonds has been a staple of sci-fi and fantasy film projects, including roles in two Star Wars movies, playing an Ugnaught in The Empire Strikes Back and Ewok medicine man Logray in Return of the Jedi. On the latter, he also puppeteered Jabba the Hutt's tail. Other film credits include Flash Gordon, Time Bandits (a leading role as Og, alongside Jack Purvis, Malcolm Dixon, and Kenny Baker), Salome's Last Dance (with Glenda Jackson, as a rabbi), the Cannon film version of Snow White (with Diana Rigg), and Who Framed Roger Rabbit? (as bar patron Stretch). In television, he played Little Ron on the British children's comedy Maid Marian and Her Merry Men from 1989 until 1994, and appeared as a dwarf librarian in the miniseries The 10th Kingdom.
External links
Ad blocker interference detected!
Wikia is a free-to-use site that makes money from advertising. We have a modified experience for viewers using ad blockers

Wikia is not accessible if you've made further modifications. Remove the custom ad blocker rule(s) and the page will load as expected.