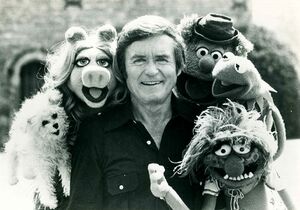 Mike Douglas (1925-2006) was a talk show host, singer, and personality. As host of The Mike Douglas Show, he frequently chatted with or introduced the Muppets, notably a 1966 guest host week (paired with Rowlf the Dog) and in 1979, to promote The Muppet Movie.
Born in Chicago, Illinois, Douglas began his career as a radio singer, first locally and then on the national series Kay Kyser's College of Musical Knowledge. In 1950, he supplied the singing voice of Prince Charming in Disney's animated feature Cinderella. As rock and roll entered the culture, Douglas' big band singing career faded. In 1961, a Chicago colleague offered him a weekday talk show slot. The series gradually gained popularity and entered national syndication as The Mike Douglas Show in 1963, remaining on the air until 1981. Later work included appearances on The Love Boat and The Rosie O'Donnell Show.
Ad blocker interference detected!
Wikia is a free-to-use site that makes money from advertising. We have a modified experience for viewers using ad blockers

Wikia is not accessible if you've made further modifications. Remove the custom ad blocker rule(s) and the page will load as expected.