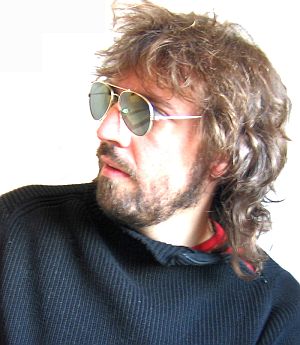 Miguel Ángel Varela (b. 1968) is a Spanish voice actor and musician who dubbed Bear on El Oso de la Casa Azul from approximately 2002 onward. He was also heard in the Castilian dubs of Alice in Wonderland (as The March Hare) and It's a Very Merry Muppet Christmas Movie (re-voicing Rowlf's few lines). He continued to dub Rowlf in later projects, including Los Muppets (The Muppets).
A guitarist in the band "The Grillo," Varela has overseen the musical adaptation and vocal direction for songs in dubbed animated and puppet productions and related CDs, including a few Muppet adaptations, as well as Winnie the Pooh productions, The Simpsons, and The Teletubbies.
As a voice actor, Varela's other credits include Andy Kaufman in the re-dub of Taxi, Jonathan Richman in There's Something About Mary, and several singing roles in the film Cradle Will Rock. His animation roles include Stan in South Park: Bigger, Longer, and Uncut, Chow on Jackie Chan Adventures, and Heimlich in Pixar's A Bug's Life.
External links