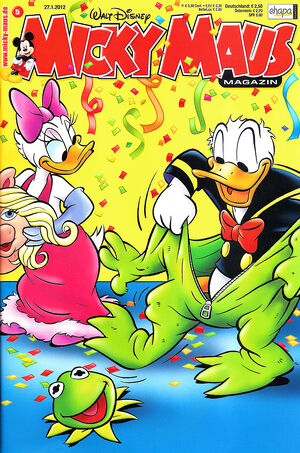 Micky Maus Magazin is a weekly German-language comic-magazine, published by Ehapa-Verlag since 1951. The mag features Disney comics centering around Donald Duck, Mickey Mouse and other residents of Duckburg. Originally just called "Micky Maus," the publication bears the subtitle "Magazin" since 1993. Each week, an "extra" (poster, small toy, bag of Sea-Monkeys, or something similar) is included.
The Muppets have occasionally been featured in the magazine's TV guide and movie review section during the 1990s. With promotion for Die Muppets in full gear in January 2012, issue #3/2012 offered a fold-out Muppet poster, and devoted several pages to the now Disney-owned Henson characters (advertising Die Muppets - Das Magazin zum Film also published by Ehapa-Verlag).
A popularity-survey was conducted online on the Muppet-tie-in, with Muppet-merchandise waiting as prizes for the winning participants. The high popularity of the characters lead to Kermit the Frog and Miss Piggy being featured on the cover (as Donald and Daisy Duck's carnival costumes, respectively) just two issues later (#5/2012). Kermit was the special guest all throughout the inside of the magazine, and the "extra" included was a Kermit toast-stamp.
External links