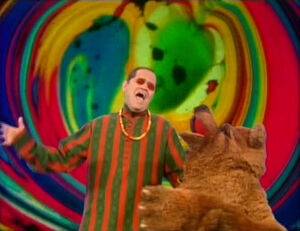 Micky Dolenz (b. 1945) is an actor and singer who began his career as a child performer but gained his greatest fame with the sitcom The Monkees, and the rock band specifically formed for it.
He made a cameo appearance on Muppets Tonight episode 105, singing "I'm a Believer" with Bobo.
Aside from The Monkees, Dolenz has made a career as a voice over artist, working on shows such as The Tick, Batman: The Animated Series, and The Powerpuff Girls. Other credits include appearances in The Brady Bunch Movie, As the World Turns, Rowan & Martin's Laugh-In, and performances on American Bandstand.
External links
Ad blocker interference detected!
Wikia is a free-to-use site that makes money from advertising. We have a modified experience for viewers using ad blockers

Wikia is not accessible if you've made further modifications. Remove the custom ad blocker rule(s) and the page will load as expected.