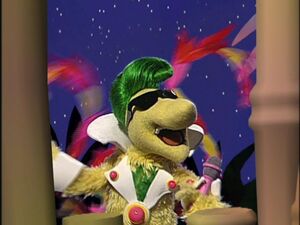 Mick Maputo Bird is a bird that lives in the Jungle of Nool on The Wubbulous World of Dr. Seuss.
Bearing a resemblence to Elvis (wearing sunglasses and a large pompadour), he is found by Morton the Elephant Bird who brings him to Junior Kangaroo's room. Junior has always wanted to see the Maputo Bird in person, but an injury had prevented him from his search. Horton the Elephant and Jane Kangaroo are also present to hear the song; in fact, every time she sees Mick, Jane gets so excited she faints.
Mick belts out a song called "Out In The Jungle" about what happens out in the jungle at night. Throughout the song, creatures from the jungle accompany him, including the Wickershams and Sneels.
He was featured in the episode "The Cat in the Hat's Indoor Picnic".
See also