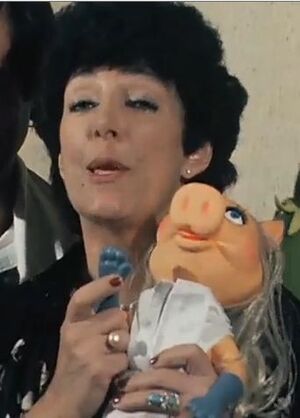 Micheline Dax (born Michelien Etevenon, 1924-2014) was a French voice actress, specializing in playing cartoon and puppet characters in both dubs and French-originated productions. Most notably, she dubbed Miss Piggy in Le Muppet Show, as well as Janice, Hilda, and most of the other female characters.
She later voiced Maa in the French dub of Babe and Tauza in the Farscape episode "Incubator."
Dax starred in several light French comedies in the 1950s, and was also a familiar television personality, appearing on many talk and variety shows. As a voice actress, she was heard in such French productions as the stop-motion animated series The Magic Roundabout and the Asterix movies (voicing Cleopatra and others).
Dubbing roles included Ursula in The Little Mermaid, Auntie Shrew in The Secret of NIMH, Aunt Figg (originally voiced by Charlotte Rae) in Tom and Jerry: The Movie, and in a rare case of dubbing a live actress, Sylvia Miles in Agatha Christie's Evil Under the Sun.
External links
Ad blocker interference detected!
Wikia is a free-to-use site that makes money from advertising. We have a modified experience for viewers using ad blockers

Wikia is not accessible if you've made further modifications. Remove the custom ad blocker rule(s) and the page will load as expected.